Discover more from Kaloh's Newsletter
Generative and AI art news, trends, and markets. Join 10,000 art enthusiasts.
Over 9,000 subscribers
✍️ Introducing typed.art, The New Shiny Toy On Tezos
Find out more about the newest text-based marketplace and some of my favorite NFTs until now...
If you have been paying attention to the Tezos world during the past few days, you probably have seen many artists sharing their "typed art." The reason is a new marketplace called Typed.art that lets you mint using only characters and texts with a 10k characters limit.
More than 4k NFTs were minted in less than five days, so the platform is closing on 1k mints per day.
So far, I have seen different kinds of works, from ASCII-based images to poems, stories, lyrics, and the popular "shit posts." Here are some of my favorites until now…
Leander Herzog sold a couple of his Aglo's for 100 Tezos.
AI art pioneer Mario Kingemann - one of the hic et nunc pioneers - has been minting a lot. Here is his "Typed Bingo Card #1".
Coco Magnusson has been typing all kinds of pants… Yes, pants.
Kaloh's Newsletter is a reader-supported publication. To receive new posts and support my work, consider becoming a free or paid subscriber.
Some have created very complex pieces, like this bass synthesizer from poco belli.
There is also room for simple written form too. Mister Reborn created a "GM, rap", which I found very funny.

Philip Bell shared what he has been collecting. Outstanding works from established artists that are doing all kinds of experiments. For example, Yazid created an algorithm that uses Markov Chains…
James Paterson created a bunch of 1/1s.
I've been minting ideas and stories; some are GPT-3 assisted texts. You can find my typed art here.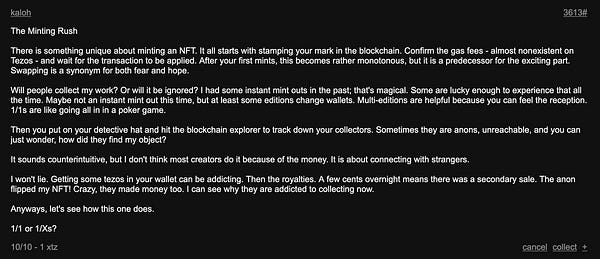 It seems like the minimalistic design and the low minting/collecting costs are driving the adoption. This marketplace has tremendous potential, especially if future features like categories, history of purchases, and discovery capabilities are integrated at some point.
I'm particularly interested in the possibility of minting texts (this could evolve into essays, books, scripts, poems) that haven't found a notorious home in Web 3 yet.
Until next time,
- Kaloh
---
Consider subscribing to Kaloh's Newsletter to receive my articles for free in your inbox. For the full experience, become a premium subscriber.
What you'll get:
Premium posts + NFT market updates and monthly public posts.

Access to my private Discord server.

Participate in monthly NFT giveaways.
Find all the details here.